Introduction
A new chapter in WordPress functionality has unfolded with the integration of Advanced Custom Fields (ACF) into QuillForms' WordPress User Registration and Advanced Post Creation addons. This dynamic collaboration between ACF and QuillForms signifies a significant stride towards streamlining user interactions and content creation within the WordPress ecosystem. In this article, we delve into the transformative implications of this integration, focusing on the enhanced capabilities it brings to both user registration and post generation.
ACF and WordPress User Registration: A Perfect Union
QuillForms' WordPress User Registration addon has evolved with the infusion of ACF, elevating the user onboarding process to new heights. This integration empowers administrators with the ability to incorporate ACF fields directly into user registration forms, ensuring a more comprehensive and personalized experience for users.
Consider a scenario where a website requires additional user data beyond the standard WordPress registration fields. With ACF integrated into QuillForms, administrators can seamlessly include custom fields tailored to their needs. Whether it's capturing user preferences, affiliations, or specific interests, the integration makes it effortless to collect diverse information during the registration process.
Furthermore, ACF's conditional logic can be seamlessly applied, enabling users to encounter fields that are directly relevant to their selections. This customization not only enhances the registration experience but also equips administrators with a more detailed user profile for better engagement.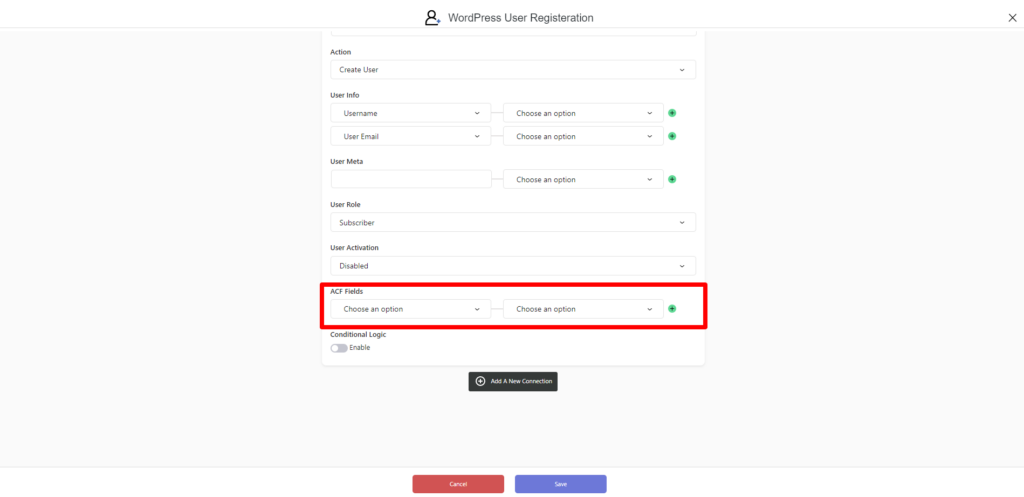 Advanced Post Creation Redefined by ACF
QuillForms' Advanced Post Creation addon now embraces ACF fields, transforming the way content is generated in WordPress. This integration empowers users to craft posts that are not only visually captivating but also intricately structured with relevant data.
Imagine a scenario where a news website accepts user-generated articles. Thanks to the ACF integration, administrators can design forms integrated with ACF fields that capture specific details such as headlines, sources, author information, and accompanying images. This ensures that user-generated content aligns seamlessly with the site's established format and style.
ACF's dynamic field types and conditional logic enhance this process, allowing users to encounter only the fields that are pertinent to their content submission. The result is a refined content creation experience that caters to the website's requirements while preserving the individuality of each contributor's work.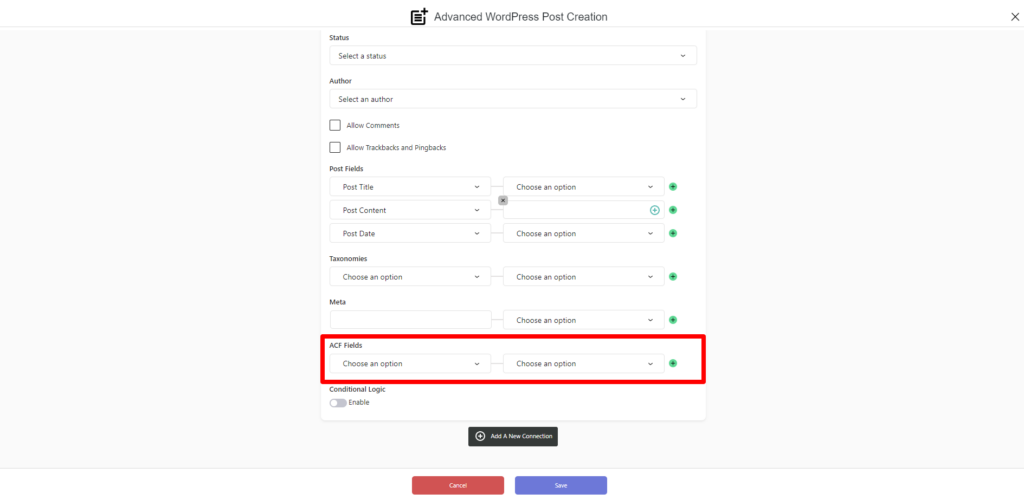 Conclusion
The integration of ACF with QuillForms' WordPress User Registration and Advanced Post Creation addons represents a significant advancement in the WordPress ecosystem. By seamlessly embedding ACF fields into these addons, users and administrators can now create more personalized user registration experiences and generate content that is both engaging and structured.
This collaboration underscores the potential of plugin integrations in expanding the capabilities of WordPress. As WordPress continues to evolve, the ACF integration within QuillForms reinforces the platform's commitment to fostering a user-centric, adaptable, and creatively empowering environment.